GREAT LAKES COLLAGEN HYDROLYSATE 454 GMS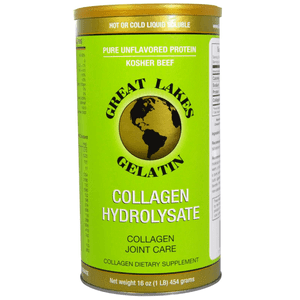 Great Lakes Gelatin - Collagen Hydrolysate 454g
 Unflavored Kosher Collagen. Pasture-Raised and Grass-Fed.
 What is Collagen Hydrolysate?
Hydrolyzed Collagen is unique in its amino acid structure because of its high amounts of glycine, lysine and proline, which are found in lower amounts in other protein food supplements. These particular amino acids are found to generate cell growth much quicker because the natural ability to produce supporting amounts of connective tissue diminishes after the age of 25. Hydrolyzed Collagen is more easily digested because of its low molecular weight and is absorbed within 30 minutes. All of the amino acids collectively are beneficial to cell reproduction, but it is the distinctive spectrum of this product that impacts the metabolic pathways to healthy tissue.
How Does it Work?
Hydrolyzed Collagen is beneficial in replacing the synovial fluids between the joints and secondly, to repair and build cartilage weakened by overuse through impact and stress. Our bodies are made up of 30% collagen of which 70% of these proteins are connective tissue made of collagen.
 Hydrolyzed Collagen is the missing link in supplying amino acids like glycine, proline and lysine that are required by the body to build connective tissue to regulate cell growth. It will benefit hair, skin tissue, muscle, cartilage, ligaments and blood cell growth. Some doctors are referring to this product as the new anti-aging product of the century.
What are the benefits of Collagen Hydrolysate? Hydrolyzed collagen will provide the missing nutritional links for most dietary supplements. A nitrogen balance is maintained for the support of age related collagen loss and cartilage damage. It is an excellent product for those with a sedentary lifestyle who may suffer from repetitive joint pain or discomfort.
* Contains protein of low molecular weight, providing quick absorption in digestive tract
* Contains amino acids such as glycine, lysine & proline to help build and repair connective tissue
* Hydrolyzed collagen is the same collagen naturally found in bones, skin & cartilage
* Hydrolyzed collagen will not congeal
* Collagen is important to nitrogen balance and may prevent cartilage damage and collagen loss
 Hydrolyzed Collagen differs from gelatin as it will dissolve in cold, warm, or hot liquids and will not congeal when chilled. This feature allows taking a high protein product in a convenient way that suits your needs.
Active Ingredients:
100% Hydrolyzed collagen


Dosage:
Take 2 rounded tablespoons (12gm) twice a day.
Room temperature liquids:
Pour two tablespoons into a glass of your favourite juice or drink. Stir and enjoy.
Hot Liquids:
Add two tablespoons to bottom of heat-safe cup, add HOT liquid and stir until dissolved
Cold liquids:
Add two tablespoons to 2 oz of room temperature liquid and stir product into liquid. Pour remaining cold liquid into glass and enjoy. Do not refrigerate