WAY OF LIFE FLOWER ESSENCES SLEEP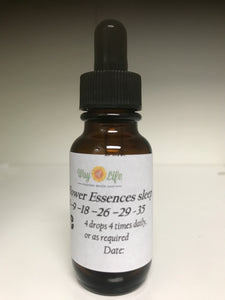 Flower Essences Sleep calms your restless mind providing natural relief of occasional sleeplessness caused by stress and repetitive thoughts.
The five different flower essences as used in Flower Essences Rescue added with White Chestnut flower essence helps removing stress and repeated unwanted thoughts so that sleep comes natural.

Dosage:

4 drops under the tongue half hour before sleep and 4 drops just before sleep.
If waking up in the night take another 4 drops.