HONEYROSE HERBAL CIGARETTES MENTHOL 20S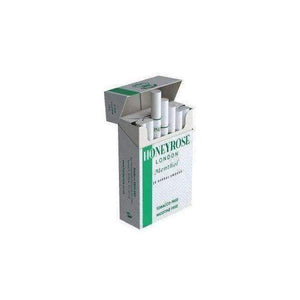 Honeyrose Herbal Smoking Alternatives. Honeyrose products are made from a blend of herbs: Marshmallow, Red Clover and Rose Petals. They are guaranteed tobacco-free and nicotine-free with varying tar levels.  
These are an R18 product and we cannot sell these to you unless you are over the age of 18. 
They are made entirely from wild-crafted marshmallow leaves, red clover flowers and rose petals, and flavoured with other natural ingredients such as fruit juices and honey.
Keep out of reach of children. R18 Only. Inhaling anything into your lungs is not good for your health.