HARKER HERBALS DEEP LUNG SUPPORT 250ML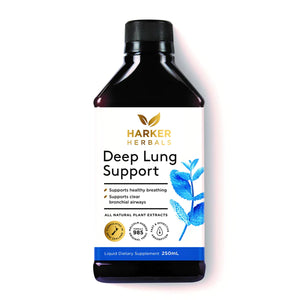 DESCRIPTION 
Harker herbals Deep Lung Support (formally Emphysemol) is the most popular Malchom Harker products and number its' one seller. This trusted elixir contains antiseptic herbs that help to support deep bronchial health, and works to effectively remove mucus. A great demulcent blend, it is also proving to be a helpful elixir for smokers.
Deep Lung Support a deep-acting, stronger alternative to Lung Elixir and contains elecampane, horehound, menthol, and juniper. Safe for all ages – babies included and ideal for very sick persons due to the toxin removing effects of elecampane, horehound, menthol, and juniper.
Benefits:
Supports respiratory system
Supports chronic conditions for very sick
Helps ease shingles & itch
Dosage:
Make sure you shake the bottle vigourously before taking a dose. Our recommended dosage is 10-20mls for adults taken 3 to 4 times per day. Swill the tonic in your mouth for 10 seconds before swallowing. Children may take half the recommended adult dose and babies (over 1 year) may take quarter of the recommended adult dose. 
INGREDIENTS
Oils & Ethers:
Camphor Laurel (Cinnamomum camphora (also known as Laurus camphora))
Cedarwood (Cedrus deodara)
Eucalyptol (Eucalyptus globules)
Eugenol (Eugenia aromaticum)
Jojoba (Simmondsia chinensis)
Juniper (Juniperus communis)
Lemon (Citrus limonum)
Menthol Oil (Mentha piperita)
Peppermint (Mentha × piperita)
Pine (Pinus sylvestris)
Rosemary (Rosmarinus officinalis)

Herbs:
Cayenne pepper or Chilli (Capsicum minimum)
Coltsfoot (Tussilago farfara)
Elecampane (Inula helenium)
Ginger (Zingiber officinalis)
Horehound (Marrubium vulgare)
Kumarahou (Kumarahou pomaderris)
Licorice (Glycyrrhiza glabra)
Lungwort (Sticta pulmonaria)
Pleurisy root (Asclepias tuberose)
Seaweeds:
Carrageen (Irish Moss) (Chondrus crispus)

Sundries:
Celtic sea salt (Mer Sal)
Citric acid (From the latin word 'citrus')
Glycerine (veg) ()
Iodine (Iodas ('violet-coloured') – Greek)
U.V. Light-Treated Rain Water ()
CAUTIONS
Check drug/herb compatibility information sources prior to purchase.
Take nutrient tonic ½ hour before drugs.
Reduce tonic dose to ½ if on drug medication.
This preparation is not a medicine and is prescribed for nutritional purposes only.